Minimizing estate taxes and protecting your assets from government intervention through customized, high-quality and affordable estate planning.
Welcome to Your Estate Planning Lawyer in San Diego
At Cheever Law, APC we are committed to providing professional, high-quality legal services to clients all over California in the areas of Estate Planning and Business Planning, differentiating ourselves through:
Highest Quality Legal Representation
Professional excellence
Honest Communication
Customized Personal Attention
Cheever Law, APC provides a full range of of estate planning services from the Core Essentials Estate Plan to the advanced Asset Protection Complex Plan. Representation begins with a confidential assessment of property and client wishes on structure of an estate plan.  Thereafter, an analysis of tax impacts, recommendations on alternative techniques and the preparation of documents necessary to carry out the chosen plan will be completed.  The office also represents trustees, executors and beneficiaries in Trust Administration and Probate matters to ease the burden at the loss of a loved one.
I help families preserve their wealth for future generations, avoid the arduous process of government intervention (probate) by putting a plan in place to ease the pain on family members at death and minimize exposure to estate taxes.
My practice includes Small Business Planning and Business Succession Planning.  I work with small business owners to help them navigate the legal landscape and handling all aspects of business planning to ensure your business is protected and your entity is in compliance to avoid any potential personal liability.
Read more
Estate Planning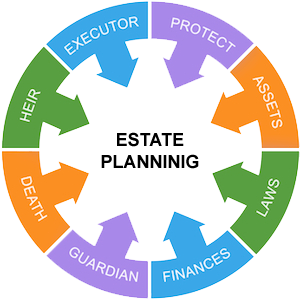 There is some truth in the old saying, "the only things certain in life are death and taxes." While Estate Planning does factor in with death and taxes, there is much more to it. An "estate" is the term used to reference all of your affairs, both your assets and your liabilities, regardless of its value – you don't need to be "rich" to require a well structured Estate Plan. It is the process of putting a plan in place in the form of legal documents to handle your estate during any period of incapacity due to an accident or illness, designating guardians for your minor children in the event of premature death, along with anticipating and arranging for the distribution of your estate when you pass away.
Such Estate Planning documents when written and recorded correctly can save you and your family from substantial expenses and stress from government interference.  At the same time distributing your estate in accordance to your wishes.  Proper estate planning ensures that your estate will be passed to whom you want, when you want and in the manner you want without the government assuming control over your estate during your incapacity and making decisions on your behalf.
If you have assets and liabilities, regardless of your age, you need to pay attention to protect your estate and consider an estate plan. You're working and have worked hard to build up your estate, now let's help you protect it from lawsuits and the government.  Most likely you have many questions and you may be unsure of what you need or why you need such a plan in place.  I understand your concerns and I will provide you with answers, expert direction, execution of your Estate Planning documents and administration based on my experience and extensive knowledge in such matters.
Protecting Children
If you are a family with young children, then your estate plan should ensure your child(ren) will always be protected, no matter what happens. A well defined Estate Plan goes above and beyond just a life insurance policy because without an estate plan, even the proceeds of insurance can be subject to government intervention and ta
xes.
At Cheever Law, APC one of our areas of greatest expertise is protecting minor children. You are obviously working and have worked hard to give your family a safe and comfortable life. Through a complete and customized estate plan, I can ensure that in the event of the unforeseen circumstances your estate is protected and continues to serve your loved ones.
Without proper planning and a Trust in place, if the unthinkable happens to you, here's what could happen:
Your children could be placed into Child Protective Services (CPS) even if you have a Will in place.
A Judge who doesn't know you, or your family, will decide who will raise your kids, even if it's the last person you would ever want
Approximately 5% of the total value of your assets could be lost due to probate
A court process can tie up your assets for months or years and deprive your kids of the resources they need to live comfortably
When your child(ren) turn 18, they get a check for whatever assets are left after all the other debtors and stakeholders have been paid, which does not have any asset protection attached to it, subjecting the money to creditors your child(ren) may have.

There are unscrupulous people whose business is to review public records to find out what 18 year olds are coming into money
The vast majority of estate planning attorneys do not address these issues, and do not plan from a parents perspective.  I make sure these things don't happen!  I prepare a Kids Protection Plan to ensure your children are protected for families with young children.
Feel free to click here to read more about naming Guardians for Minor Children.