Estate Planning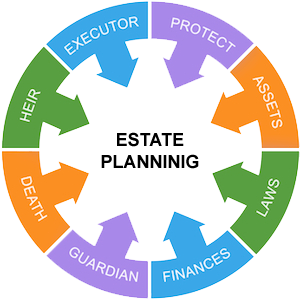 There is some truth in the old saying, "the only things certain in life are death and taxes." While Estate Planning does factor in with death and taxes, there is much more to it. An "estate" is the term used to reference all of your affairs, both your assets and your liabilities, regardless of its value – you don't need to be "rich" to require a well structured Estate Plan. It is the process of putting a plan in place in the form of legal documents to handle your estate during any period of incapacity due to an accident or illness, designating guardians for your minor children in the event of premature death, along with anticipating and arranging for the distribution of your estate when you pass away.
Such Estate Planning documents when written and recorded correctly can save you and your family from substantial expenses and stress from government interference.  At the same time distributing your estate in accordance to your wishes.  Proper estate planning ensures that your estate will be passed to whom you want, when you want and in the manner you want without the government assuming control over your estate during your incapacity and making decisions on your behalf.
If you have assets and liabilities, regardless of your age, you need to pay attention to protect your estate and consider an estate plan. You're working and have worked hard to build up your estate, now let's help you protect it from lawsuits and the government.  Most likely you have many questions and you may be unsure of what you need or why you need such a plan in place.  I understand your concerns and I will provide you with answers, expert direction, execution of your Estate Planning documents and administration based on my experience and extensive knowledge in such matters.
Continue on to learn about Trusts
I look forward to answering any questions you may have, click here to email me. 
Sign up for the Cheever Law Newsletter